"ANDREW"
Radio Personality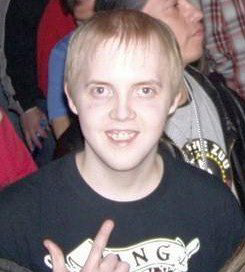 My love for hard rock was first ignited when I heard AC/DC's "Back In Black" and then it just took off from there. I started doing the Hair Metal Mansion Radio Show back in December of 2008 and have been going with it ever since, growing and improving with each show. I believe that there is still a good fan base for 80's style hard rock and I am out to prove that by giving the artists the spotlight. I do anything I can to help promote the music, just because I love it so much and it's what I'm passionate about. I am proud to say that I am a member of the Red Eye Radio Network team and grateful for all the support I've gotten. I am just doing what I love and do all I can to prove that real rock n' roll will never die!

If your daily routine includes an excess amount of aquanet and spandex, then check yourself into Hair Metal Mansion, cause this is the place where you belong!

The Hair Metal Mansion is a 2-hour radio show dedicated dedicated to all the hard rock & hair metal that ruled the airwaves in the 80's and early 90's. Each week, the era of decadence will be resurrected, along with the new music that is keeping the spirit alive today!

In addition to all of the great tunes, your host Andrew the AxeMan, will get you up to speed with what's been happening on the site, in the music world and a lot more. Another segment has also been introduced.. Californian rock goddess Judaslover will deliver her Double Dose every Saturday...having lived the seen in Cali back in the day, she always has great stories to tell.

In a recent partnership with Iron City Rocks, you will also get to hear interviews from your favorite artists!


So far, here is a list of artist interviews that have been featured:
Tom Keifer (Cinderella)
Steven Adler (ex-Guns N' Roses/Adler's Appetite)
Kip Winger (Winger/Alice Cooper)
Michael Schenker (UFO/Scorpions/MSG)
Yngwie Malmsteen
Rik Emmett (Triumph)
Bobby Blotzer (Ratt)
A.J. Pero (Twisted Sister)
Rudy Sarzo (Ozzy/Quiet Riot/Whitesnake)
Graham Bonnet (Rainbow/MSG/Alcatrazz)
Reb Beach (Winger/Whitesnake)
Mikkey Dee (Motorhead/Don Dokken)
Andy Parker (UFO)
Bruce Kulick (ex-KISS/Union)
Doro Pesch (Doro/Warlock)
Wolf Hoffman (Accept)
"Wild" Mick Brown (Dokken/Ted Nugent/Lynch Mob)
Dave Rude (Tesla/Dave Rude Band)
Dave Meniketti (Y&T)
Chris Caffery (Savatage/TSO)
Oz Fox (Stryper)
Lenny Wolf (Kingdom Come)
John Corabi (ex-Motley Crue/The Scream/Union)
Richie Kotzen (ex-Poison/Mr. Big)
Oni Logan (Lynch Mob)
Lizzy Borden
David "Rock" Feinstein (Elf/The Rods)
Kristy "Krash" Majors (Pretty Boy Floyd)
Pat Torpey (Mr. Big)
Axel Rudi Pell
Steve Blaze (Lillian Axe)
Marten Andersson (Lizzy Borden/Lynch Mob)
Erik Jayk and Ali Hassan (Wildstreet)