"DJ INFERNO"
Radio Personality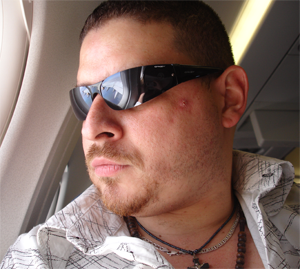 Rod AKA Inferno: A local FM DJ & Radio Producer since 1993 for 91.7FM Stereo in El Salvador, Central America has his own Rock & Metal Show on the station every Saturday at 11:30p.m. EST by the same name "The Metalroom". Rod also produces radio commercials and spots; has his own recording studio at home and has been the official voice of 91.7FM since 2001. "The Metalroom": Is an ONLINE Rock & Metal Show as follows: (We Play Alternative - Rock - Classic Rock - Progresive - Metal) On Mondays, New Music recieved either by (unsigned) bands or new music Worldwide signed bands... besides News, upcoming releases, Concerts, Festivals, etc
You can submit you material (MP3) or concert flyers to:
themetalroommp3@gmail.com
Or send directly to our postal address:
The Metalroom P.O. Box 05-250 Metrocentro San Salvador, El Salvador Central America
P.D. All material recieved will have airplay.